Testimonials

"My pets are happier and more relaxed when I get home from work.

They are definitely benefiting from your visits.

Thank you so much for taking such great care of my 4 legged, fuzzy family."

~Diane S.


"We find Laura an absolute pleasure to use for her pet sitting service.

She's very knowledgeable of the wants and needs of dogs and cats.

You can count on her to carry out her duties exactly the way you would do them.

She loves your pet as much as you would!

Her experience is vast as both a service dog trainer and handler.

She is always improving her skills by traveling to attend workshops on pet handling and care.

We highly recommend her services to anyone who needs "peace of mind" in a pet sitter!"

~Joe & Jean Ames
Longtime pet owners and animal lovers


"Laura has done a fabulous job taking care of our dogs and cat. She is professional, trustworthy

and we know they are in good hands. We are so glad we found someone in our neighborhood and
would recommend her to all."
~Matt and Laura Dinges

"I have known Laura for 30 years. She has always shown a kindness and concern for all animals -
they make her smile and she makes them happy and relaxed in return. If you are looking for a
dependable, caring individual to watch over your own beloved pets, Laura is the best you will find."

~Janet Rogers

"I don't know who is happier, Tyrone or myself, that we've got you in our circle now.

You did a wonderful job and it is so reassuring and heartening to me to know that my beautiful
little woof is in your hands. Thank you so very much."

~Midge and Tyrone

"We live in Houston Texas and after many years were visiting our alma mater, UMass, for Homecoming.

We were quite apprehensive about care for our beloved dachshund, J.P. Morgan.

We met with Laura to arrange for his care and knew immediately that she would be a perfect pet sitter.

Our Mr. Morgan is very loving to everyone and so was Laura to him. Laura was so thoughtful in

asking us all she needed to know to make him comfortable and to be a companion to him.

Her report to us when we retrieved him was so well documented and obviously full of love for our beloved pet.
We would not hesitate to refer others to Laura anytime. In fact we would like to bundle her up and

ship her to Houston, TX where we could use her all the time."

~Paul and Dana Cutts


We moved to Massachusetts with two big, rather high maintenance dogs and were worried that we wouldn't be able to find someone who could both handle them AND enjoy spending time with them. Laura has exceeded our expectations in every way and we were so lucky to find her! Laura has stayed with our dogs, Frog and Mowgli for both daytime visits as well as overnights and always goes above and beyond to make sure the dogs and we are comfortable. A few things I love that Laura does:
1. She always writes a note summarizing her time with the dogs, which is especially reassuring when we are far away and traveling. Hearing that they are doing well and are cozy and happy is such a comfort!
2. She always plays games with the dogs to keep them stimulated. They especially like the "find it" game, where she hides treats around the house and they have to go find them! She also encourages them to chew on their bones, which they often forget about.
3. She's not intimidated by taking on extra tasks, like caring for one of our dogs after surgery. Frog had fresh stitches all around his eye when we left for a week-long trip, which worried us. She applied ice packs, ointment and pills multiple times a day and when we came back he was as good as new!
4. She is loving but firm with the dogs. I know that they have a friend in Laura, but can't take advantage of her by jumping on her or misbehaving...the best combination ever of balanced affection and responsibility.
In short, when we go away (whether it be a day or a month), we know that Laura has things under control on the home front, and that's more than any pet owner can ask for. Thank you, Laura!

~Kelty Luber


When Jasmine, a 5 month old Labrador retriever puppy entered our household in November 2011, we hired Laura to walk her during the day as we both have long work schedules. She is wonderful: pleasant, completely reliable, and thorough in her communication with us--leaving daily notes with helpful suggestions.
When we saw how effective she was training Jasmine (she does a daily 1 hour walk and train), we asked if she would do some private sessions with our family. Jasmine is now over 7 months, and better trained than any dog we've ever owned. And she looks forward to Laura's daily visits (we think she misses her on the weekends). We could not be more pleased with how this arrangement has worked out for our family. We recommend Laura highly.

~Audrey Smith and Gregg Anderson


When I started having trouble with my knees in the summer of 2011, I wanted help with keeping my border terrier, Jarvis, happy and healthy. Through a business card posted at Valley Veterinary Services I found Laura. What a blessing! Jarvis knows when her car drives into the driveway and becomes very excited. He often pushes open the screen door to greet her. They have a half hour walk which pleases him and relieves me of a guilt complex. When she leaves he mopes by the door. (She even created a greeting card "Miss You" with his photo) Laura comes twice a week and is also available to care for him if I am away for the day. He loves Laura and so do I.

~Sherry Wilson, Amherst


We highly recommend Laura, Neighborhood Pet Services, for dog walking, training and pet sitting. We have been using her services for almost a year now and have been nothing but pleased. We spoke with Laura about our dog's barking and set up a one hour session. She identified the "triggers" that would cause our dog to bark uncontrollably and methods to address each situation weather it be ignore, remove or redirect. We happily live in a quieter home. She has assisted in training. She incorporates basic commands in walks by reinforcing his sits and stays. She has also provided great suggestions in addressing other dogs on our walks. Now they are a nonevent. But what we love best is that she makes our vacations stress free! We know our 2 dogs, 2 cats and fish are being cared for as we would. She is patient, dependable, attentive, responsible and kind to our pets. We feel better leaving home knowing she is there!!!

~Jim and Terri Wysocki


Thank you Laura! Our family had been thinking about getting a dog for some time. After extensive research we decided to add a Golden Retriever puppy to our family. As first time puppy owners we had NO idea what to do or how to train this adorable fluff ball. Enter Laura! She has been amazing to work with. Our puppy at 16 weeks old is a joy to be around, and can complete a number of commands with ease. As a matter of fact, when we go out with him, we get nothing but compliments on how well behaved he is, this includes a recent trip to the Vet who commented on his laser focus while she was completing her exam.
More than training our dog, Laura is training us to train our dog. My entire family now has a common language to use when talking with our Gimli. Because of this, he is calm and well behaved. We can't say enough about Laura and her service! If you are thinking of training your dog, give her a call.

~Kelly M.

Laura is an awesome trainer. She got me and my family on track with our new puppy and we have made huge improvements with her help. We continue to train with our puppy on our own who is not even 2 yet and she is really amazing. Because of the help we gained from Laura. I would suggest her help for anyone with a new puppy!

~Melissa Roberts-Cote
I simply can't say enough about what a gift Laura has been for our family. We are the neurotic owners of two high-maintenance cats and Laura has been our pet sitter for the three years we've lived in the Amherst area. She dotes on our kitties, is incredibly meticulous in their care, and checks in with us if their are ever any questions or concerns. When we come home, there's a note outlining each of her visits, and she's always prompt and responsive when we email to check in on longer trips. Laura is a true professional, and we trust her judgement completely. It's such a relief to know that she will notice and quickly attend to any issues that arise with our kitties in our absence. Laura is truly a gem, and any family with pets would be lucky to have her as a pet sitter.

After graduating from UMass, we moved and STILL have not found a pet sitter who is anywhere near as reliable, kind, and responsible as you were with our kitties, in either Maine or Texas.
~Elizabeth Barker
Laura is a super attentive and caring pet sitter! We asked her to look over our cat over a few weeks of vacation, and she did a much better job than any of our friends (even our close ones) have ever done. She played with Cookie, spent a lot of time with him, and really showed him the attention he needed while we were gone. Our Cookie is usually shy with strangers, but from the get-go he really bonded with Laura. I highly recommend her and will be asking her to help us again the next time we need a pet sitter.

~Shay C.

Thanks for taking such good care of Rocky, Mickey and Minnie this past week! We really appreciated all the attention you gave them, and on our return it was lovely to be able to see the "log" of your visits in the nice daily note you recorded. We thank you for everything and will definitely call you again next time we leave town.
~Beatrice C.

Thank you so much for all you did for Hershey (and us)!! This was our first experience having a dog/puppy and you not only walked our little guy, but also taught us so many incredibly helpful tips in building our understanding of how to take care of him. Thank you for your advice, kindness to us and Hershey, and consistency in care!

~Christina Belfakih

Our first session for Ruthie with Laura. It went really well and we see some improvements already! Thanks Laura! We've had two good mornings in a row with NO barking! Working to stay the course. Thanks Laura for helping us! We are on day three of good backyard manners! We are thrilled that Ruthie is learning to go outside and not have it be a barking fest. The training is working!

~Mari Jo Jones

Got back about an hour ago. Read your notes--so glad Dharma came out and cuddled/played with you. You did great in coaxing Dharma out--the only other person who has been able to do that was our friend/former neighbor. She is such a sweet cat, and has a great memory, so she will probably remember you from now on. Thanks for everything! We appreciate the care you give our babies.
~Ruth G.
You have an incredible connection to animals. That's why you're so good at what you do.
They feel it...Buffy and Dusty love you.

~Lorraine H.
I highly recommend Laura as a pet care person. I couldn't have asked for a better experience.
She took care of my two cats for a whole week.

She is very conscientious, and better yet, she is kind and understands animals.
She went through all the requirements for the cats in person and she was very particular to getting every detail right.
It was the first time I had to leave the cats in someone else's care, and I was nervous to do so, especially for my male cat (Tom). He is very shy and nervous and can be a picky eater; After going through all the details with Laura I felt good about leaving them in her care.
When I came home, I was happy Tom had not lost any weight, and thanks to Laura's daily log of her interactions, I saw she had even managed to make friends with him. She played with the cats and we had her stay longer a couple of times during the week (for extra longer playtime) and that was totally worth the reasonable extra fee.
I can't recommend her enough as a dependable and kind caregiver.
~Georgia Loconsolo
Thank you so much, Laura. I think having your help to get us started with Beacon (11 week old pup) is going to be a huge asset to us. We're back in North Carolina and are continuing the commands we learned with you. He's doing great! I'll be sure to email you with questions in the future about his training. Thank you for the photo, too!
~Jen and Nick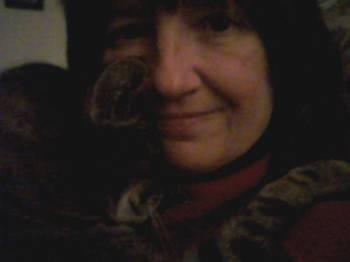 Thank you for choosing Neighborhood Pet Services