Greta, my first NEADS service dog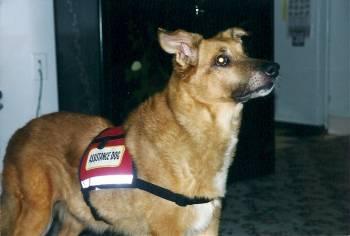 "Some beings come...and quietly go. Others stay for awhile,

leave paw prints on our lives and we are never the same".
~Unknown


I grew up in Sunderland, in an area of town with a variety of wildlife. I was always fascinated watching various animals wandering and playing in our yard...I could watch them for hours, and wanted to work with animals when I grew up. I am a dog owner and home owner in Hadley for over 35 years. Still wanting to pursue my passion for working with animals, especially dogs, I wanted to raise a service dog. I met someone at work in 1992 who had a service dog. I said. "This is what I want to do". He connected me with NEADS (back then it was the New England Assistance Dog Service). My first NEADS pup was a mixed breed named Greta, a rescued pup, who was found tied to a fence outside an animal shelter in RI.
Greta was the best dog. Very sweet temperament. Her attention to me and then her new owner, was exceptional.
She was placed with a woman who had polio, who did not get out much. After getting Greta, she took Greta out with her to dinner, and even took Greta on cruises! I stayed in touch with the family and visited them at least once a year. Her owners were amazed at how happy she was to see me. I was so glad to be able to see her too.
Lucky for me she was placed in Shrewsbury, MA.
People ask me...do the dogs remember you...yes they do!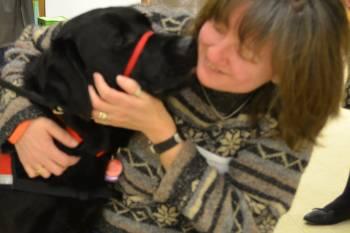 Reunion with Benny

After changing jobs, I was no longer able to raise puppies for NEADS, as you need to be with the pup 24 hours a day so the puppy will develop a strong bond. I stayed connected with NEADS over the years. Then in 2002, attending a benefit breakfast at NEADS (now the National Education for Assistance Dog Services), the Director, Sheila O'Brien, said, I have just the program for you. The Prison Pup Program. Inmates train the dogs in jail, and I would take the dogs 3 days a week, and work on their obedience in public with distractions, and in different situations, as they cannot get the socialization and life experiences they need in jail.
I just finished with my 7th dog, Romeo. Then took another pup out, a black lab. named Pax, to finish him up. And recently finished with Benny, also a black lab. I can't wait to see them at graduation!
I still visit all the people who have "my dogs". The dogs always remember me, and are so excited to see me.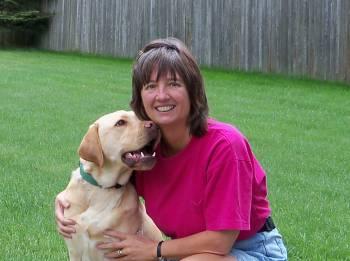 Reunion with Dutch

My pups became Service Dogs, and Therapy Dogs. One of my dogs, Freddy, is doing double duty, as a Balance Dog and Ministry Dog. This client had been waiting for 4 years for the right dog to do both. Freddy and his person, Kathy, are in a new book. Another Language by Jeanne Braham. Chapter 1 is about Kathy and Freddy.
One of the people who got one of my pups said to me, Fern changed his life in two weeks. I found that the pups help people along the way while in training too. I was amazed.

Volunteering for NEADS, raising puppies, led me to start my own pet related business.
Neighborhood Pet Services, daytime visits and overnight pet sitting visits, in your home.
I can truly say, I LOVE my job. My experience includes, training assistant (logging over 500 hours as a training assistant) in Amherst (Pet Behavior Consulting), Greenfield (NB Productions), and Chicopee (Exercise Finished-Elise Gouge), for Beginner, Level 2 Obedience, Intermediate, CGC, Nosework, Variety Class, Therapy, and Reactive Dog Classes. Also assisted a NEADS trainer, training the inmates, at the Hampshire County House of Correction.

My fascination continues...I love to attend various behavior and training seminars any chance I get.

Completed the 2010 Instructor Training Course (ITC) in NY.
Attended seminars with Pia Silvani and Sue Sternberg.
Most recently attended a seminar with Ken Ramirez on marine mammal training and behavior.
Lecture with Stanley Coren, on the intelligence of dogs.

Attended the 2011 International Association of Animal Behavior Consultants (IAABC) Conference, in Warwick, RI.
Attended seminars with Victoria Stilwell, trainer from "It's Me or the Dog" on Animal Planet, Dr. Frank McMillan (Best Friends Animal Sanctuary) in UT, Dr. Sheila D'Arpino, Dr. Kathryn Wrubel, Steve Dale, Katenna Jones, and Bob Bailey.

Recently completed Red Cross First Aid and CPR Training for Pets.